First off, let me say thank you for looking into this so thoroughly. You are a good person for trying to do this the right way, instead of trying to shortcut the process by using a fake online registry for service dogs. You're doing the right thing, trying to make sure you're going about this properly and not just taking your untrained pet into a store to harass people.
Now, let me also say, in short, if something that's going on with your body is bothering you enough that you're looking this deeply into a service dog, 95% of the time that means you probably qualify for a service dog. I know that's not enough to satisfy most of you though, so let's go into more detail.
What Qualifies Someone for a Service Dog?
Let's start with the definition of a service dog. The ADA defines a service dog as "dogs that are individually trained to do work or perform tasks for people with disabilities."
So in order to qualify for a service dog, you must be disabled.
But don't run away yet. Disabled is a much broader term than you are probably thinking. You don't need to be getting disability through social security or have a handicapped license plate to count as disabled.
What counts as a Disability?
The ADA (American Disabilities Act) website states this about disabilities:
An individual with a disability is defined by the ADA as a person who has a physical or mental impairment that substantially limits one or more major life activities, a person who has a history or record of such an impairment, or a person who is perceived by others as having such an impairment. The ADA does not specifically name all of the impairments that are covered.
Let's put this in easy-to-understand terms.
Basically, if you have something wrong with your body that stops you from living normally, that is a disability. The phrase "Substantially Limiting" may scare you, but let's talk about what that means.
Is my Problem "Substantially Limiting"?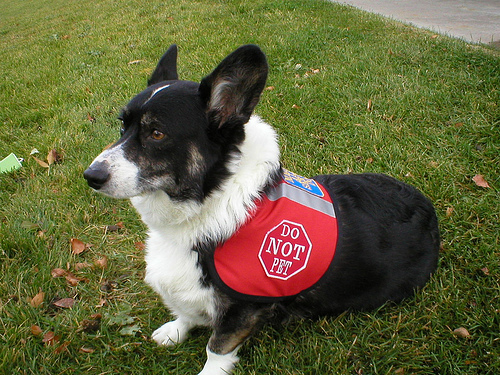 The ADA says your impairment must "substantially limit" you and that sounds like, well, I must have to be mostly dying to be disabled, BUT there was a ruling on what "substantially limits" means and it is supposed to be interpreted broadly. That means that what is bothering you does not have to be something catastrophic. To quote the website:
When does an impairment "substantially limit" a major life activity?

To have an "actual" disability (or to have a "record of" a disability) an individual must be (or have been) substantially limited in performing a major life activity as compared to most people in the general population. Consistent with the ADAAA, the final regulations adopt "rules of construction" to use when determining if an individual is substantially limited in performing a major life activity. These rules of construction include the following:

An impairment need not prevent or severely or significantly limit a major life activity to be considered "substantially limiting." Nonetheless, not every impairment will constitute a disability.
The term "substantially limits" should be construed broadly in favor of expansive coverage to the maximum extent permitted by the terms of the ADA.
The determination of whether an impairment substantially limits a major life activity requires an individualized assessment.
In keeping with Congress' direction that the primary focus of the ADA is on whether discrimination occurred, the determination of disability should not require extensive analysis.
Although determination of whether an impairment substantially limits a major life activity as compared to most people will not usually require scientific, medical, or statistical evidence, such evidence may be used if appropriate.
An individual need only be substantially limited, or have a record of a substantial limitation, in one major life activity to be covered under the first or second prong of the definition of "disability."
So "substantially limiting" means, more or less, that you need to be pretty bothered by what's wrong with you. It has to interfere with your life.
There are a few caveats to this though. Problems that will last under 6 months AND are minor are generally not considered disabilities under the ADA. So, in my opinion, that would be like – hey, my cat scratched my leg and it hurts. That's going to heal in a week, and it's not limiting you from walking, so it's not a disability.
However, say you broke your leg in a severe compound fracture and will need to be in a wheelchair for a bit while it heals and you go through physical therapy. That is likely to count as a disability (although it wouldn't be something I would recommend a service dog for) – it's something that keeps you from walking and it's severe. Even if it lasts under 6 months, it will still likely count as a disability.
What is a "Major Life Activity"?
We've discussed what "substantially limits" means, and it's pretty broad. Now, let's talk about what the heck a major life activity is. This is also a very broad term. The ADAAA says:
Under the ADAAA, "major life activities" is expanded to include "major bodily functions." The statute contains a non–exhaustive list of "major life activities" that adds additional activities to those currently listed in the ADA and Section 503 regulations, and a non–exhaustive list of "major bodily functions." Specifically, the ADAAA provides that:

Major life activities include, but are not limited to, caring for oneself, performing manual tasks, seeing, hearing, eating, sleeping, walking, standing, lifting, bending, speaking, breathing, learning, reading, concentrating, thinking, communicating, and working.
Major Bodily Functions include, but are not limited to, functions of the immune system, normal cell growth, digestive, bowel, bladder, neurological, brain, respiratory, circulatory, endocrine, and reproductive functions.
Well, that's pretty great. They provide for nearly everything in that list and they say it's not even a list of everything that they consider as a disability. Under the "concentrating" heading, you can see how problems like depression (brain fog, depersonalization) or ADHD (major distractability) are covered as a disability. Under "brain" you can see how PTSD would be covered as a disability. Cancer, seizures, bladder malformations, etc, all can be disabilities if they are bothering you in your day-to-day life.
What About Medication?
Some people may worry that, well, I take medications or use/do something that helps me with my issue. Good news: this doesn't mean you aren't disabled. Even people who take a medication that, say, helps ease anxiety can still count as disabled, as long as the problem is bad when they are not taking the medication. It's like if someone has to use a wheelchair to get around. They are still considered disabled, even though they can get around, because the root problem still exists. The problem isn't "cured" by the wheelchair or the medication, it merely helps you get by. Without it, you'd be back to square one.
So I may be able to control my asthma by using a daily inhaler, but I'm still considered disabled, because without my medication, I would be unable to breathe. Same with bipolar disorder or depression or other things.
Should I get a Service Dog?
So you've decided that you have something going on with your body that is keeping you from functioning well from day to day. Should you get a service dog? This is the real question. Not everyone with a disability should get a service dog.
Before you decide to get a service dog, you should ask yourself these questions:
1. Do I have the time, money and ability to take care of a dog?
Dogs aren't robots. They need food, they need to go to the vet, they need walks, they need to be cleaned up after, they need baths, they need to be trained. Can you manage these things?
2. Is there something a dog can do for me that I cannot do for myself because of my disability?
A service dog must be trained to do something when cued (either by a word, body movement or change in the body) to help you. A dog that makes you feel better when you pet them is not a service dog. A dog that lays on your chest (for Deep Pressure Therapy) when told to help keep a severe panic attack from occurring can be a service dog.
The dog must be able to do something for you that helps with the disability you have. There are some disabilities that a dog may not help. Perhaps you have cancer and you're doing chemo and it makes you throw up, but that's really all. A dog can't do something to help you stop throwing up. This would probably be a case where a service dog wouldn't make sense. Perhaps, however, the chemo makes you weak and you lose your balance often. A service dog that braces you when it feels you lose your balance may be helpful and appropriate in that case.
A dog that does something for you that isn't helping with your disability is not a service dog. If you teach your dog to turn on lights for you and your disability is major depressive disorder, that is probably not going to count as a task. If you teach your dog to turn on lights for you and you have PTSD that causes you to not be able to enter dark rooms without freaking out, that can count as a task as long as it's actually making you feel better. The things your service dog does for you must be something related to helping make your disability less disabling.
Remember, sometimes other things may help more than a service dog. In some mobility cases, a cane would make more sense than a service dog to help you walk. In some cases, people may need a service dog to remind them to take their medication, but some people may do just fine with a phone alarm. Think this through to make sure that a service dog is the right choice for you over something else.
It's up to you to evaluate whether a dog would actually help you with your disability. A service dog is not just around to be interesting or fun or a companion, they are medical equipment that assists you in your day-to-day life. Try to think of it as if you are evaluating whether an oxygen tank or a wheelchair would help you with your disability. Sometimes a wheelchair makes sense for a disability, sometimes it doesn't. I don't want a wheelchair just because it would be fun/cute, I want it because it will help me get around when my femur is broken. Same with a service dog.
3. Will my problem last long enough for a service dog to make sense?
For example, if your mom died and it's giving you some pretty bad depression, it may not make sense for you to get a service dog. This is because most cases of situational depression (something bad happened and it's depressing you) will not last very long. Most times it won't last long enough for you to even half train a dog to help you. This would probably be a case where an emotional support animal that helps you feel better at home would be good enough to get you through a rough patch.
However, some situational depression does turn into severe long term depression, and in that case it may make more sense to get a service dog to help.
Are You Sure I Qualify For a Service Dog?
Each person is different and so I can't really cover every specific instance and tell you whether or not you qualify for a service dog (and whether or not a service dog will help you). If you really, really want to know for sure if you're complying with the law, you will need to ask a disability lawyer.
However, in most cases, if you read through this article and feel like a service dog could be trained to do something to make your day-to-day life much easier, you will probably qualify for a service dog.
As an aside, you do not need to be claiming disability through the SSI to be considered disabled. Just because you have a disability does not mean that you will be getting any sort of other medical or monetary benefits from the government. Sometimes those benefits are a real hassle to claim, or you may not need them, so not everyone who is disabled is getting government benefits.
Just make sure, to cover your butt, that a doctor has documented your disability, so you have proof that it exists in case you need to go to court over something related to your disability. Most of the time, this is you taking someone else to court because someone has discriminated against you. Very rarely are people with legitimate, well-trained service dogs taken to court by someone else, but it's best to be ready just in case.